Transpak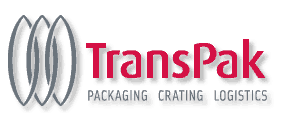 TRANSPAK'S MISSION IS TO DELIVER PEACE OF MIND BY PROTECTING OUR CUSTOMERS' KEY ASSETS ON THEIR GLOBAL JOURNEY.
For almost 70 years, TransPak has provided innovative and cost-effective design, crating, packaging and global logistics for our awesome customers. 
All of our efforts are fully supported by a friendly and experienced team and advanced communications, tracking and design technology and is linked through our locations around the world.
What does this mean for you?
The crate, the logistics plan, the packaging solution we build for you in our Silicon Valley headquarters is identical to the one created for you in our Asia, Mexico or Europe locations. You will find the same materials, workmanship standards through our ISO certification, shared bill of materials and drawings along with the same quality of design and engineering capabilities. TransPak protects not only your products but also your brand stability as your goods follow their global journey from manufacturing into your own customers' hands.
With TransPak, you'll experience the advantage of:
Global operations (Over 2 dozen locations, 2,000+ team members, over 1.5 million facility sq ft)
Innovative custom designs, product packaging design, environmental solutions and smart sourcing
Cost effective production, purchase power and turnaround time
Superior world-wide warehousing and transportation services
Full visibility and clear communication through advanced technology and real-time tracking
Showing all 1 result