We've been in the packaging machinery industry for some time. As a specialist supplier, we stock a range of strapping machines for all purposes. When an automatic system isn't required, a simple hand strapping kit can be quick, easy and cost effective.
Whether you need an occasional kit or heavy duty electric sealer, there are many models to choose from. We try to keep it simple by offering our favourites for both reliability and speed.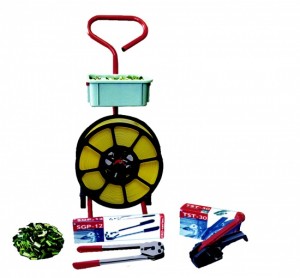 Ideal first hand Strap kit for everyday use contains everything you need.
Steel Construction Tensioner
Standard Hand Sealer
One Coil of 12mm Hand Strap
Approx. 1000 Heavy Duty Seals
Trolley or Static Dispenser for Plastic Strap Reels
Ideal Budget Hand Strap Machine Kit
Economy Tensioner
Economy Sealer
One Coil of Hand Strap
Approx. 1000 Serrated Seals
Trolley or Static Dispenser for  Plastic Strapping Reels
We offer a wide variety of tensioners & sealers for all hand machine kits. Note – Economy tensioner is shown.