Hand Strapping Machines are a quick and cost effective alternative to machine strapping . Hand Strapping is much more versatile and can be performed on a bigger variety of package shapes.
We've been in the packaging machinery industry for some time. As a specialist supplier, we stock a range of hand strapping machines for all purposes. When an automatic strapping machine system isn't required, a simple hand kit can be quick, easy and cost effective. IT also is more versatile in certain situations, as can be used on different sized packages which may not be able to fit onto a machine.
Whether you need an occasional strapping kit or heavy duty electric sealer, there are many models to choose from. We try to keep it simple by offering our favourites for both reliability and speed.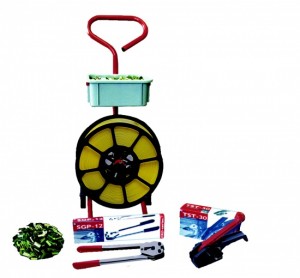 Ideal as a first time hand strapping kit, and for light everyday work. Polypropylene strapping isn't as strong as Polyester strap, but it is cost effective and suitable for things like cardboard boxes. It is not as recyclable as polyester.
The kit contains everything you need to prepare and trap your products securely.
Steel Construction Tensioner
Standard Hand Sealer
One Coil of 12mm Hand Strap
Approx. 1000 Heavy Duty Seals
Trolley or Static Dispenser for Plastic Strap Reels
Ideal Budget Hand Strap Machine Kit. This particular kit uses polyester strapping, and is suitable for a wide range of uses. Polyester strapping is stronger than the equivalent polypropylene strap, and is less prone to stretching. It is recyclable and Eco friendly
Economy Tensioner
Economy Sealer
One Coil of Hand Strap
Approx. 1000 Serrated Seals
Trolley or Static Dispenser for  Plastic Strapping Reels
We offer a wide variety of tensioners & sealers for all hand machine kits. Note – Economy tensioner is shown.